Every website owner in this era knows the term "SEO" and its importance. Search Engine Optimization is the digital strategy and method to attain top ranks in google searches and improve visibility.
So, if you own a business website, service website, or personal website, ranking it these days has become quite a challenge as, with the passing of time, this field is getting saturated.
To understand the algorithm of Google, you will need to keep yourself updated with the latest tactics such as internal linking, advanced keyword research, and a complete ranking strategy.
A good SEO strategy will make your website crawl better, and the chances of indexing in top searches will be potentially high. Let's jump to the fundamental SEO world and the tactics one can imply.
Things to Know About Technical SEO
So before you take a step ahead in designing a complete SEO strategy, you must be aware of technical SEO. There are some crucial key points and terms you must acknowledge yourself with. Let's move forward and unveil the essential components of technical SEO.
What is Technical SEO?
Being an SEO specialist, one must know that technical SEO is one of the crucial processes ensuring all technical aspects are per our search engine's requirements. This factor will help crawl, index, and interpret our website without hassle.
Most importantly, if you have real intentions to get your website indexed or ranked in Google searches, then it's extremely necessary you pay attention and carry out a complete audit to figure out where you are lacking.
Let's get a clear picture of technical SEO and how one can implement it on a website.
Why is Technical SEO Important?
You have a beautiful website with impeccable content and are user-friendly. But, guess what, the infrastructure you designed or have does not align with Google. This is one of the pressing issues when optimizing your website; this process demands some tech knowledge. Yes, you will need to be a little tech-savvy.
The foundation of your technical SEO should be strong enough to crawl and index your website and helps Google understand your business more clearly. Good quality content isn't enough these days.
The technical SEO part is responsible for other various factors such as site speed, security, site map, mobile-friendliness, and much more. It's time we explore these essential components of technical SEO.
What Includes in Technical SEO?
If we talk about technical SEO, it's a big chunk of the SEO syllabus that plays a vital role in indexing your website, and the components that play a great role in visibility cannot be undermined. Let's move further and check out the whole package of technical SEO!
Site Speed
To make your website pop in the eyes of Google, you will need to make sure that your website runs smoothly. As users, we would always prefer a website that runs rapidly and loads web pages instantly. Likewise, google looks for this factor and promotes websites with fast-loading websites.
Google is well-aware of human behavior, and the algorithms determine the audience hasn't got enough time to spend on load time. Hence Google drops these websites at the end rather than indexing them.
Site Security
Your site needs to be secure to surf safely; scams, insecurities, and fraud are prevalent today, and inadequate security measures can negatively impact your SEO rankings. Profiteers and/or malicious users can jeopardize the safety of your website and harm it by stealing your data and causing fraudulent activities.
If your site has excellent content but poor site security, then Google will not show visibility and keep it away from users' access. Malware or any deceptive links can also badly impact your website, leaving you very few visitors/users. You need to ensure the security of your website to get good SEO.
Mobile Friendliness
Your site also needs to be mobile-friendly to rank higher because it is an important Google ranking factor. More searches are conducted through mobile-friendly websites with an interface that works exactly the same across devices and tends to rank higher in SERPs than non-mobile-friendly sites.
The three ways that make your website mobile-friendly include mobile subdomains, dynamic design, and responsive design—which all entail some features which focus on how your website looks on mobile and how easily it is to navigate through on mobile devices.
Site Structure
How you lay out information on your website and how you organize it also affects your SEO rankings. The usability and findability of content in your website attract traffic, if your website is easy to navigate and is structured well, users can find information more simply, and Google will index your URLs greater.
How to Find Out Technical SEO Issues in Websites?
If your website is not ranking high, you are more likely to be having some technical SEO issues in your website and to find it out; you should do a technical SEO audit to figure out these issues and where your website is lagging—some of these issues may include duplicate content, broken link errors, server errors, website laid speed issues, directory structure issues, and others that negatively impact your SEO rankings. You should also look for any missing alt tags, broken internal images, and title tag issues in your website to resolve any such problem that may be affecting your SEO rankings.
Things to Know about ON-Page SEO
To move ahead with a perfect SEO strategy, there are some things that you need to familiarize yourself with to ensure an effective engagement on your website, which generally fall under the on-page SEO factors.
So, let's get down to the nitty-gritty of on-page SEO.
What is On-page SEO?
On-page SEO refers to optimizing content within your website and how your webpages can be structured to improve their position in the search engines and users. Optimizing content, title tags, headlines, internal links, and URLs are some of the standard practices that help improve on-page SEO.
Why is On-Page SEO important?
On-page SEO is important to earn organic traffic and improve your website's search engine rankings through optimizing web pages. These tactics, such as using keywords in title tags and URLs and taking measures to improve meta descriptions, all help your website create traffic and index top positions in the search engines. So, you need an impeccable on-page SEO to rank higher SERPs.
What Includes in Improving On-Page SEO?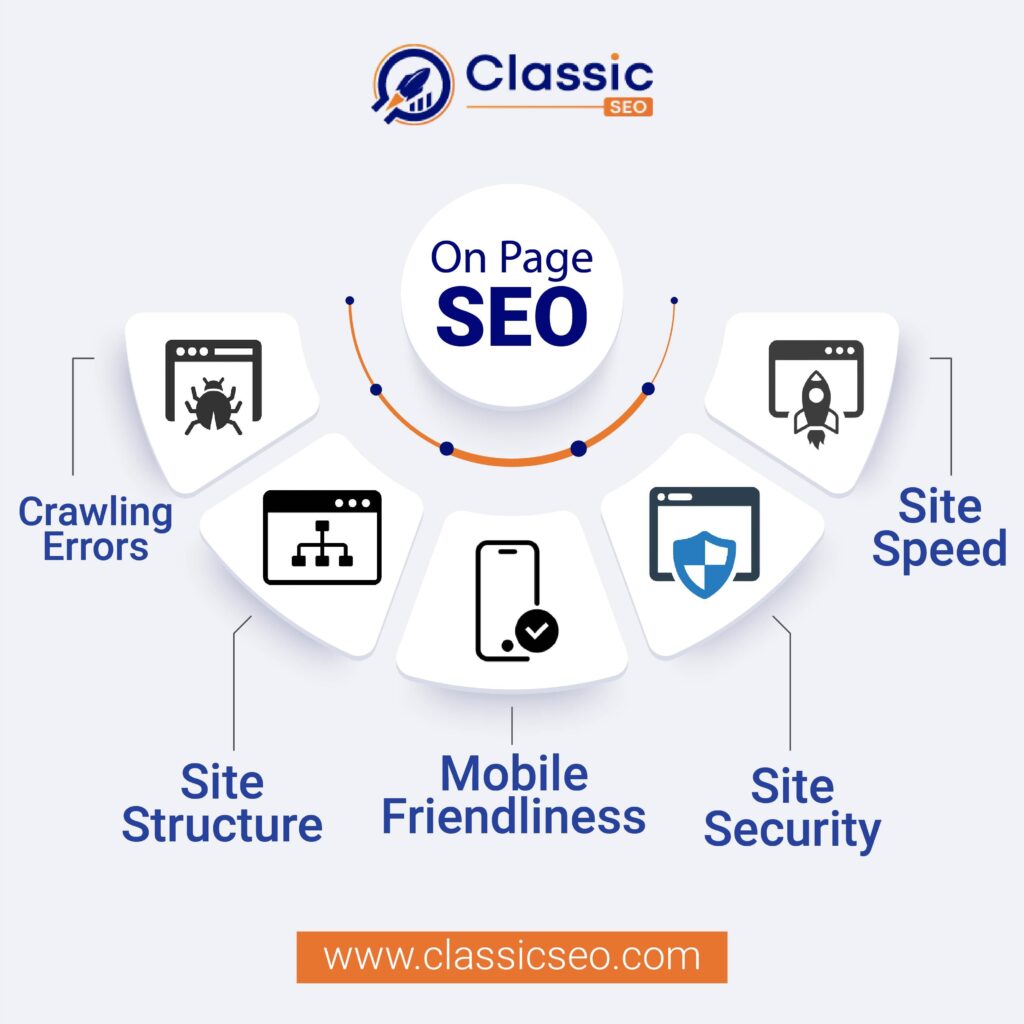 Some ways that can help you in improving your on-page SEO and get more crawlability and visibility for your website include comprehensive keyword research, content optimization, strong internal linking, schema implementation, and updating meta tags.
Comprehensive Keyword Research
Comprehensive keyword research is the process of identifying what your target market is looking for and how. It is done by understanding the search terms (keywords) your target audience is entering into search engines, analyzing the data to incorporate those into your website, and developing keyword-rich content to rank higher on the search engine results page (SERPs).
Content Optimization
Content optimization ensures that your website's content is structured to be easily accessible to the search engines and your target audience. It is done by ensuring that your web pages have unique content, are keyword-rich to attract your audience, and that the content is relevant and understandable to search engines and users. It is also done by avoiding any spin content or thin content that is not valuable to the users and might hurt your SEO performance.'
Strong Internal Linking
Internal linking is the process of linking one webpage of your website to another by creating hyperlinks that locate different pages on the same domain. A strong internal linking strategy helps create a good user experience, achieves higher rankings in Google, and improves your SEO rankings.
Schema Implementation
Schemas are largely understood as data that help the search engines understand your website content using a unique shared language. It is a code that aims to assist search engines to bring up your content and add to the visibility and crawlability of your website by supplying users with more easily accessible information on your website.
Updating Meta Tags
Meta tags are little pieces of information that tell the search engines what the content is about and how it will rank in SEO. Updating the meta tags for your website can boost your SEO rankings and engagement rates which will ultimately help your website appear in the SERPs. Title tags are also an important element of it which provide the users with information on your website and appear in the SERPs, as well as meta descriptions that are little snippets explaining what your website is about on the search results page, and updating these will help your website in getting better SEO rankings.
How will Classic SEO help your business?
Classic SEO will help your business improve by providing you with its impeccable SEO services that will help you improve your visibility online—on-page factors, crawling, and optimizing webpages all help improve your SEO which ultimately leads to growing your business. The more highly your business is ranked, the more your online traffic increases and the more your products and services are easily accessible to your targeted audience.
Final Thoughts
SEO has major benefits for the growth of your website/business, and using the right SEO techniques can give your website the boom it needs with long-term rapid growth. In the World Wide Web arena, only good quality content does not cut it; you need to have an impeccable SEO strategy to gain crawlability, indexation, and ultimately, search rankings for your website to build credibility and standing in the digital market.