As businesses increasingly turn to online search engines as their first port of call when looking for information, their website must be optimized for the search engines. Achieving a high search engine ranking can be difficult, but it can help boost traffic and increase the number of leads your website generates. While many people overlook the importance of SEO, it not only brings your website to the top but also improves Users' experience and helps retain clients 40% more than an average website.
Here are ten of the most important Google ranking factors that you should keep in mind when trying to improve your website's performance in search results:
What do Google ranking factors mean?
Google (and other search engines) use something called "ranking factors" to evaluate sites and determine how to best present them in response to a user's search.
Successful SEO requires an understanding of ranking criteria. Not because they are the be-all and end-all of SEO (they're not), but because they help create a better user experience, which guarantees more leads and conversions for your organization, all marketers, content writers, and SEO strategists should be acquainted with them. 
Therefore, it is advised to utilize these criteria as a standard.
Types of Google Rankings Factors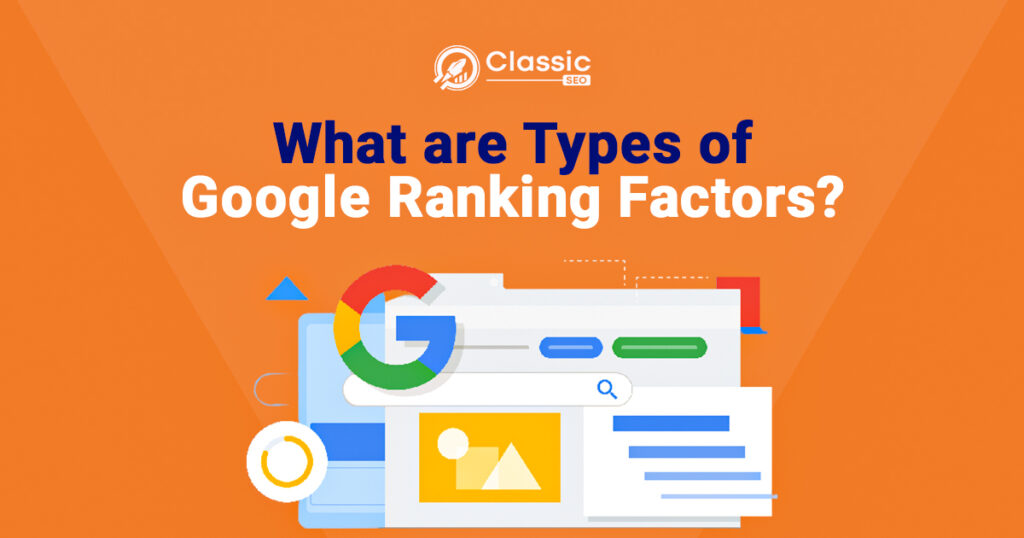 Let's go through the various ranking variables before we get into the top ranking criteria you may optimize your website pages around.
Technical Ranking Factors
Technical ranking factors look at how well your site can be crawled and indexed and show searchers its content quickly and safely.
Search engines give websites with certain technical features, like a secure connection, a responsive design, or a fast loading time, more weight in search results. Technical SEO is the work you need to do to make sure your website has these features.
On-page SEO, also called on-site SEO, is the process of changing a page's content, tags, and internal links to make it more visible in search results and get more traffic.
Also, on-page ranking factors describe the quality of the content and the keywords being targeted on that specific page.
"Off-Page SEO" refers to everything you and other people do away from your website to boost a page's search engine ranking.
People often think of link building when they think of off-page SEO, but it is more than that. Off-page optimization involves a lot of things that don't result in a standard link on another site.
When someone does a "local search," they look for businesses, products, services, or any other information that is relevant to a certain place. People could search for "concerts near me" to find out about upcoming concerts in their city or "best painting service in [location]" to find a painting service close by.
Important Technical Ranking Factors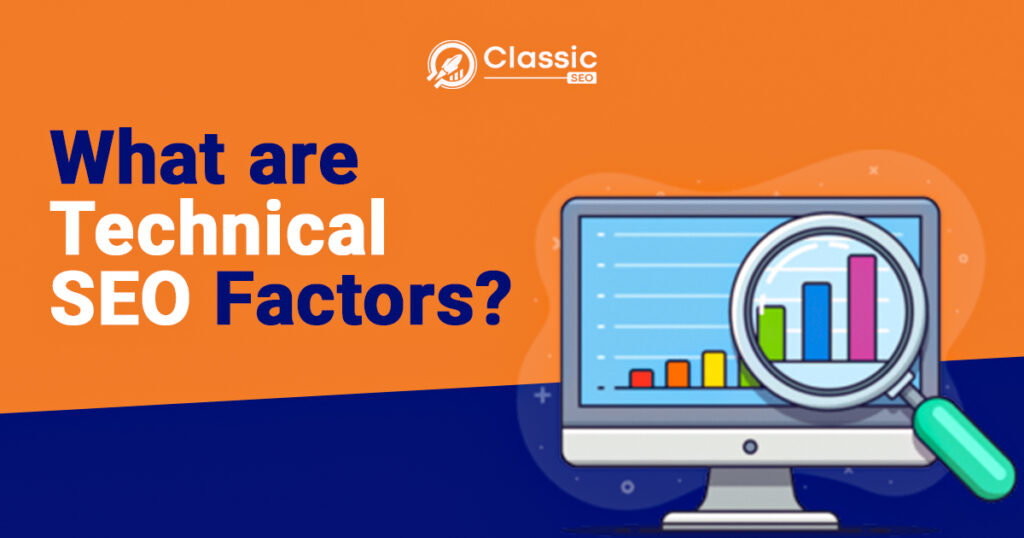 Being SEO expertIse can agree with how important technical SEO is for our website. Let's move forward and find out what are the main and crucial technical ranking factors that will help us boost our presence in the search engine.
Website Loading Speed
If you want maximum conversions, you must ensure your website speed is good enough for the users. The longer it takes for your website to load, the more potential customers and income you will turn away.
The fact that users anticipate a problem-free surfing experience is one reason why page speed is such an essential component in ranking. If it takes too long for your pages to load, you will see a rise in your bounce rate, which will lead to a drop in your ranking.
Mobile Friendliness
While we're talking about mobile, another important SEO ranking factor is how mobile-friendly a site is. Google has changed how it ranks search results because more people access the web on their phones than on their computers.
In a nutshell, mobile-first indexing refers to how Google catalogs your website. If you have a mobile website that is distinct from your desktop website, the URL of your mobile website will be crawled and utilized to determine your ranking rather than the desktop version.
To set the record straight, there is not distinct mobile-first index. Your content derived straight from your website's mobile version will be indexed and ranked by Google.
Core Web Vitals
Google's Core Web Vitals are a collection of defined metrics that assist web developers to understand how people interact with a website. Core Web Vitals were designed for developers. However, all site owners may use these tools since they break down the actual user experience on a page.
Page experience and Core Web Vitals are only two of the numerous aspects that go into determining where a website ranks in organic search results returned by Google. The order of importance was not disclosed to the general public. However, some of the factors are more significant than others.
 Website Architecture
While we are on the subject, website architecture is an important factor that developers often overlook. Specifically, user retention refers to how long a user stays on your site after viewing a particular page. If your site is easy to navigate, it will result in a higher user retention rate.
In a nutshell, Website Architecture refers to the entire structure of a website. When we talk about site structure, we are talking about the different sections of your website and how they relate to each other.
Proper site structure allows search engines to categorize your site based on specific categories, making it easier for users to find what they are looking for. Properly structured sites generally have better rankings in the search engines because they have more pages targeting specific keywords and phrases.
 Website Security
"Security is a growing concern for everyone online. Unfortunately, keeping your customers' personal and financial information secure can also be very challenging. But doing so is a must for your business if you want to maintain the trust of your customers."
In summary, securing your website is about protecting against hackers and other digital threats. It's about taking steps to protect the privacy of your customers as well. If your customer data is compromised, your business could have serious implications.
Important On-Page Ranking Factors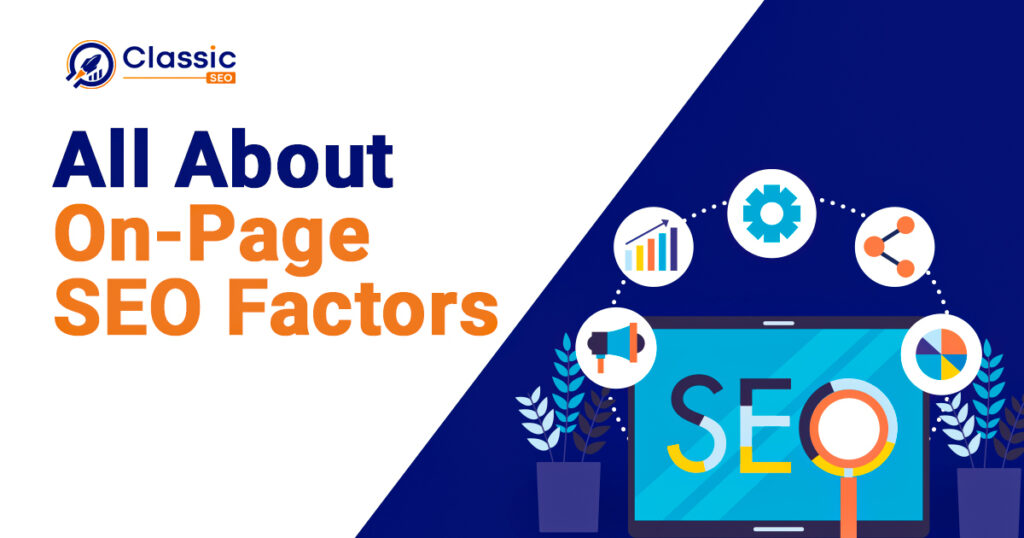 Let's look at some of the factors that can influence your search engine rankings and, ultimately, how users find your website.
High Quality and Relevant Content
It is a well-known fact that content is king when it comes to SEO and search rankings. High-quality content will attract the attention of search engines and visitors alike. It will also ensure that your visitors have a positive experience when they visit your site.
Excellent quality content brings repeat visitors to a website and ensures that users are more likely to purchase from a business because they'll feel they can trust the site.
Content can include text, images, videos, audio files, etc. Keep in mind that the type of content you choose will affect the overall structure of your website and should be taken into account when planning the layout
Keyword Placement
Placing keywords in the body of your content will allow search engines to identify which terms are related to your site easily. This will improve your chances of ranking higher in search results for those keywords. 
Make sure not to overuse the same keyword over and over, or it can lead to a search engine penalty. Experts agree that an ideal keyword density is around 1 to 2 percent, meaning that your keywords can appear about one to two times per 100 words.
Keyword stuffing can result in a penalty and remove your page from the Search Engine Results Pages (SERP). To avoid this, use your keywords sparingly in a natural-sounding way that makes sense for your content.
Image Optimization
An image is worth a thousand words, right? That's certainly true when it comes to online searches. Optimizing your images can improve the effectiveness of your SEO strategy and help search engines index them correctly.
Search engines can't see what an image contains and can't analyze its characteristics. However, they analyze the image's alt attribute by associating it with specific keywords.
A proper image alt tag will help search engines understand what your image is about and make it more likely to appear in search results. It will also give users a reason to click on your link.
Important Off-page Ranking Factors
Let's now turn our attention to one of the most important off-page ranking factors: backlinks.
High-Quality Backlinks
Consider Backlinks as the vote of confidence that shows search engines that another site trusts and recommends your website. This is also referred to as "Link juice" and is extremely helpful in getting ranked in search engines.
When other high authority sites link to your site, you are sending a signal that the search engine bots understand your site is important to a particular topic and worthy of ranking in the top results for a particular query. 
High-Quality Backlinks are still a hugely important factor in SEO today, and your rankings will not be impacted much if these are missing on your site's pages.
 Important Local Ranking Factors
Now shift your attention towards local SEO-the steps you need to take to rank higher for your local area.
Google My Business Profile
Make sure you complete your profile, including the correct address and contact details for your business. Your profile should appear high in search when people look for local businesses in your area, so you want to ensure you take the time to fill it out properly.
Add all the relevant information about your business, such as hours, services, and any additional information that you think potential customers might find useful,
You should also display your business hours so people can quickly and easily find the information they need. Also, include a link to your website to make it easy for people to find out more about you or contact you if they want to place an order or request more information.
 Reviews
Word-of-mouth recommendations are still one of the most important ways people learn about new products and services, and local reviews greatly impact how people view a business.
High-ranking businesses often have hundreds or thousands of positive reviews on
Google and other review platforms. When people read these reviews they are more likely to trust the business and make purchases.
Getting more reviews can be difficult, but there are several things you can do to encourage your customers to leave feedback and build trust with new customers.
Summary
To sum up, we recommend learning the basics before you start experimenting with your website. Having an idea of what's important helps you save a lot of time and money. It helps you rank your website easier, and improve the overall user experience!