Countless articles tutor the best SEO practices you need to apply to achieve a good position on the SERP; look for search intent, image optimization, building quality backlinks, etc.
However, whether you are new to SEO or have been helping websites generate organic traffic for years, it is possible to overlook some common SEO mistakes that may hurt your website's ranking on the SERPs. These small mistakes can waste not only your time but also hurt your site. They cause your site's ranking to drop, decrease web traffic, and ultimately affect your company's bottom line.
Nevertheless, you can fix most of these mistakes quite quickly. This article will discuss the ten most common SEO mistakes that may hurt your website's ranking and how to fix them.
Broken Links [404] Errors
Fixing broken links is an integral part of an SEO strategy plan. But why does it matter?
When visitors follow a particular link to or from your website, they expect certain content to be available once they get on that page. You do not want to put your visitors off or damage your SEO ranking due to a bad customer experience, which is what a broken link does.
A broken link could be an external link from another website or an internal link that goes out of content. When visitors click on a broken link, they see an error page telling them that the page does not exist anymore.
It could cause an immense problem for your site as customers don't like visiting broken links and might not come back to your site.
Moreover, when Google web crawlers crawl your site, they go through various links to collect data that impact your ranking on the SERP. Google does not want to send visitors to a broken (404) page.
How to Fix Broken Link Problems?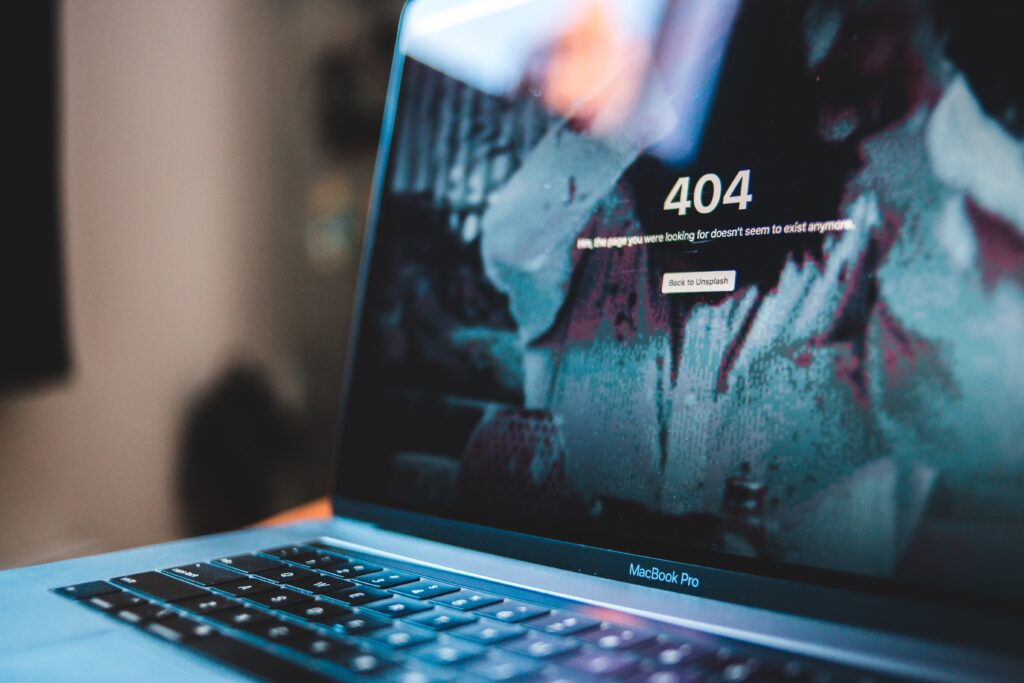 If you start looking for broken links manually, you may need weeks for this task. However, there are many free and paid tools available that wouldn't take more than a few minutes to pinpoint the broken links on your site.
Search Console and Ahrefs Broken Link Checker are two easy tools to find broken links.
If the broken link is to an external site, you have got two options:
Remove the link
Replace it with a new valid link
However, if the broken link is from your website, you have complete control over it. In this case, you need to choose any of the following options according to the nature of the broken link:
If it is due to a typo, fix it
Use 301 redirect
Delete the broken link
Broken links are harmful to your site's SEO; therefore, it is essential to identify and fix them.
TLS Certificate Error
After installing your new SSL certificate, you might get a TLS Certificate Error. When your browser fails to validate the installed certificate, your site shows this error.
This validation failure means that your business's identity has not been verified, which equals not having an SSL certificate.
Reasons Why TLS Error Happens on The Website
If your site is showing a TLS certificate error, it could be due to various reasons. Some of these are:
Misconfiguration of Certificate
This is one of the most common reasons for TLS certificate errors. It is due to the misconfiguration of your SSL/TLS certificate during installation. In that case, the browser wouldn't be able to identify your business's identity.
If your site's domain is different from the one for which the certificate has been issued, you will see a TLS/SSL Certificate Error.
This error appears when the identity of the source of certificate issuance cannot be verified. For example, it could be due to the expiry of its certificate or due to some other reason.
Incorrect Date or Time on Your Desktop
If, for any reason, the date or time on your system is changed, it can trigger the TLS certificate error. The reason behind this error is the expiry date on the SSL certificate.
If the server and browser do not support the same TLS/SSL certificate version, your site might display an error.
Resolving TLS Certificate Issues
Fixing Misconfiguration of Certificate
You can use any of the available online tools to fix this issue. In addition, these tools help you identify the errors you might encounter during installation, which is helpful in this regard.
Fix the Domain Mismatch Issue
Check the domain for which the certificate has been issued. If the domain for which the SSL certificate was issued doesn't match your domain, you would need to get a new certificate for your domain.
Identity Verifying Issue Fixation
Always get your SSL/TLS certificate from a reliable authority. Self-signed certificates or certificates from a less reputed authority carry a high risk of identity verifying issues.
Rectify your system time and date to get rid of this error. If the problem persists, it should be due to some other reason.
In such a case, if the client/browser supports the older version while the server does not, the client needs to upgrade their certificate version. Otherwise, this issue has to be handled from the server side.
Website Load Time Speed Issues
Website load time is a page's average time to show up entirely on your screen. Search engines, especially Google, use website load time as a ranking algorithm to determine your site's position on the SERP.
Moreover, with tons of websites available at their fingertips today, customers do not bother to suffer from slow websites. If your website does not load within seconds, your customer will move to a speedier website.
A good website load time is crucial for user experience and impacts your site's ranking on the SERP and conversion rate.
How to Reduce Page Load Time Speed?
Reducing page load time should be an integral part of your SEO strategy. Below are a few techniques you can use individually or collectively for this purpose.
Choose a Suitable Hosting
Your website's server is integral to how fast your pages load. Choose a reliable hosting service and select a package suitable for your content type. Ensure your hosting grows with time to compensate for the increased demand.
Minimize Time to First Byte
Time to First Byte or TTFB is a user's time to receive the first data byte from the server. A TTFB below 200 ms is excellent. However, if your site's TTFB is more than 600 ms, it could harm your site's SEO. Optimizing your database helps minimize TTFB.
Choose the Right Image Formats
A picture speaks a thousand words; it is accurate, and the use of images has become crucial for the success of a website. However, choosing suitable image formats is essential; otherwise, it may hurt your site.
Most developers and marketers prefer the PNG image format because of the high image quality and the possibility of background removal.
You can also use JPEG format; however, its image quality is not as good as PNG.
Mobile Version of Website
With the increased use of mobile devices and mobile-first indexing by Google, a mobile version of your website has become a necessity for the success of your business. There are a lot of consequences of a mobile unfriendly website that can be damaging for your company. It will leave a harmful impact on your user, and they'll:
Most likely, leave your website and go to your competitor instead
Lose interest in your brand
Not recommend you to others
Unlikely share your content
Google recommends a responsive and mobile-friendly design for all websites. If your website isn't mobile-friendly, this is the best time to upgrade your website. It is essential for user experience and boosts your ranking on the SERP.
Duplication of Content
Duplication of content is using the word-to-word content on your site that is already present on another page. Moreover, using a piece of content by slightly rewriting it is also a form of content duplication.
Google penalizes websites for using plagiarized or duplicate content. It states that it tries to index and show pages with distinct information. Therefore, losing ranking on the SERP could be your fate if your site has duplicate content.
How to Resolve Duplicate Content Issues as a Webmaster?
Duplication of content confuses Google, and it has to choose one of the pages with identical content to rank.
Many of the instances of duplicate content occur due to inconsistent URL structure. So, it is best to tell Google about your preferred link structure and use proper canonical tags. This way, Google would only crawl and index your preferred URL. Preference URL can be set in the site settings of your Google Webmasters account.
Toxic Backlinks: How to Get Rid of Them
Your website is ready with top-notch keywords, responsive web design, original content, and right image SEO–a perfect blend to be at the top of the SERP–but you are not there. What's wrong?
It might be hard to believe, but your backlinks might be the culprit.
However, the good news is you can analyze your backlinks, identify the bad ones, and get rid of them to obtain your deserved position on the search engine result page.
Toxic backlinks hurt your website's reputation. Most of these links come from spammy websites. These links could also come from paid backlinks and links from blog comments and forums.
Steps to Remove Toxic Backlinks
The first step to removing toxic backlinks is to run a complete backlink audit to identify the harmful ones. It will take you days if you do it manually. Fortunately, there are tools available that you can use to identify toxic backlinks on your site.
Bad backlinks can be removed by following these four simple steps:
Understand the characteristics of a bad backlink
Use a tool to identify all the spammy backlinks that are coming to your site
Contact the webmaster and request the removal of these links
Create and submit a 'disavow' file to Google to ignore these spammy backlinks
Google's 'disavow links' tool can help easily sort your spammy link problems. The tool enables you to import a text file using Google Search Console and point to all the links that you want Google to ignore. You can put specific links in the file.
As a best SEO practice, run regular backlink audits to spot any spammy or toxic links and take the required measures.
Server Errors [5XX]
A 5xx error is a server error that prevents your web page from loading. The delay in page loading triggers a negative user experience that, in turn, lowers your SERP ranking, directly affecting your traffic.
These errors are on the server side, where your server cannot meet a valid HTTP request from a browser. There are several 5xx errors that your client might be facing, including:
500 – internal server error
502 – bad gateway
504 – gateway timeout
508 – loop detected
510 – not extended
Any 5xx errors badly affect your website's ranking on the SERP. Therefore, focusing on on-page SEO, image SEO, social media, etc., is not enough to gain and maintain a higher ranking on the search engine result page. Instead, you have to keep a check on your landing pages and update them. In short, resolving any 5xx errors is crucial before it causes your target audience to run away and Google lowers your ranking.
Forgetting No-Index Tags
You might sometime forget to de-index certain pages from search engines. These are the pages you do not want search engines to crawl and index for various reasons; forgetting to add no-index tags to them is destructive to SEO.
Using a no-index tag for less important pages of your website is essential. The following pages may require a no-index tag:
Product pages that are out of stock and won't be restocked
Pages with duplicate content
Password-protected pages
Pages valuable for search engines but useless for users
Make sure to include no-index tags on less-important pages as a part of your SEO strategy plan. This will keep your low-quality web pages out of Google's index – as it will help Google focus and index your site's most important pages.
Improper Schema
Search engines keep updating their algorithms and techniques to provide the best and most accurate information to users in an understandable manner. Schema helps search engines understand what type of content is on your page and present it to your target audience in the form of rich snippets. It is a relatively new evolution in SEO – a powerful but less-utilized technique that can boost your ranking on the SERP.
If you are not using schema markup on your site, you are leaving a lot on the table. It affects your site's overall SEO, ranking on the SERP, and your bottom line.
However, misusing schema on your site could be equally bad for the site's SEO health. Therefore, it is crucial to use schema rightly to reap its long-term benefits.
How to Solve Improper Schema Issues?
Use Google Search Console to keep an eye on your site's schema markup. If you see your rich snippets have disappeared from the organic search, it's time to find and fix the errors. Make sure to test your schema markup in the Google Structured Data Testing Tool before applying it to your site.
Bad Redirects
Generally, redirects are a part of your site's evolution. However, the slightest mistake can impact your ranking on the SERP and decrease your web traffic.
An issue arises when your site redirects to a URL that is no longer accessible. This can negatively impact user experience and your site's overall SEO.
Bad redirects are possible due to several reasons, including:
Your server is misconfigured
Server is overloaded
A temporary issue due to server maintenance
Whatever the reason, you need to identify and fix bad redirects to prevent a harmful impact on your site's ranking.
How to Identify Bad Redirects?
With lots of online and offline tools, it is no longer difficult to identify bad redirects of your site. These tools identify the pages that redirect to URLs with 4xx or 5xx errors.
How to Fix Bad Redirects?
Create a replacement file on a new URL and fix all references. If you can't replace the resource, you must remove all incoming references to that URL.
Final Thoughts
SEO–from keyword research to image optimization–is crucial for your website's success. When done right, you reap its benefits, such as increased visibility and more visitors. On the contrary, when you make mistakes with SEO, your potential audience cannot find you on the web, causing a loss in the bottom line.
Avoid the above-mentioned common SEO mistakes to improve user experience and win the top ranking on the SERP.