A responsive website is one that can adapt to the size of a visitor's device screen. It ensures that all website content, including images and structure, looks in accordance with each other regardless of the device a visitor uses.
Unfortunately, despite so many advantages, many websites do not have a responsive design. However, the truth is that a responsive web design is the best way to provide your visitors with the best user experience and quality products or services.
What Does Responsive Website Mean?
Responsive website design is one of the most discussed things in the web design industry. However, if you do not have much design knowledge, you might wonder what it actually means.
It is a design technique developers use to make websites that can adapt to many different browsers, screen sizes, and operating systems. In other words, a responsive design ensures that all visitors will view the site as the developer intended it to function and look.
In a nutshell, you create something for your visitors that is easy to use, no matter which device they use.
Why Do You Need Responsive Website Design?
Image Source:  GoodFirms
The responsive design of your website allows the content of your website to flow freely across all screen resolutions and ensures it looks great on all devices, regardless of their size. It also helps you by eliminating the need for various variants of your website for desktop and mobile, thus, saving your resources, time, and efforts.
What are the Benefits of Having a Responsive Website?
With a responsive design, you can create a site that responds positively to the size of the user's screen. It optimizes your user's experience by providing a flexible web page, optimizing it for the screen your user is accessing the site from.
When a user accesses your content that easily adapts to their screen size improves the overall user experience, It also improves readability, decreases the bounce rate, and boosts your bottom line.
How Mobile-First Indexing Impacts SEO?
It is now already established that Google prefers indexing websites that are mobile-friendly. Therefore, the mobile-friendliness of your website acts as a major ranking factor.
If a website is not mobile-friendly, Google bots might not take much interest in visiting it frequently. This, in turn, affects the indexing of your various web pages.
Therefore, mobile-first indexing greatly impacts your website's overall SEO and could be a make or break point for your website.
Benefits of Mobile Friendly and Responsive Website
In recent years, the use of desktops has become less, and more and more people are browsing the web using their smartphones. Therefore, it has become essential for businesses to create websites that are mobile-friendly.
Here we list some of the benefits of a mobile-friendly website.
1.   Google Prioritizes Mobile First Indexing
Mobile-first indexing means that Google uses the mobile-friendliness of your site as a ranking algorithm. Therefore, a mobile-friendly website should be essential to your SEO strategy.
2.   Improves Usability of the Users
As we all know that more than half of internet users access the internet through smartphones, we cannot deny the importance of a mobile-friendly website. If a user cannot easily navigate through your website from their phone, they would most probably abandon your site for a competitor's website that is more mobile-friendly or, we should say, user-friendly.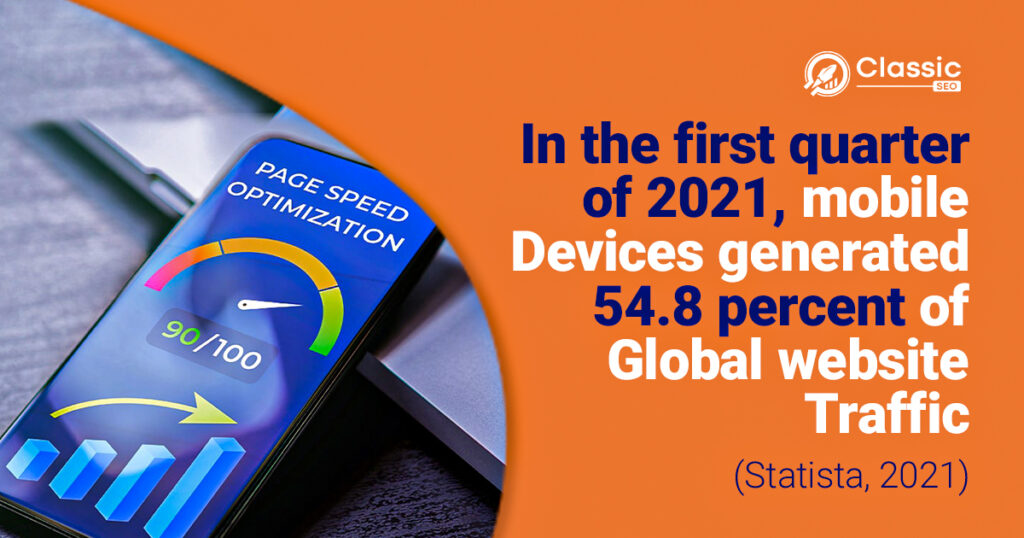 When your website fulfills your users' needs, a bond of trust is formed between your site and users. This makes them return to your website and ultimately improves your sales.
3.   Improves Page Speed
When you create a mobile-friendly website, it automatically helps you improve your website loading speed. As a result, a mobile-friendly site loads much faster as compared to an ordinary website.
The main reason for this fast speed is the structure of HTML coding that is set in a way to make it compatible with various devices at a time.
Moreover, page loading speed is also considered a ranking factor, making it possible for your site to reach at the top of the SERP quickly.
4.   Lowers Bounce Rate
Along with the quality of content, one of the reasons for the increased bounce rate is the complex structure of a website and the difficulty of navigating it. As an SEO company, we know the part the mobile-friendliness of a website plays in lowering its bounce rate.
With a website design that can adapt to different screen sizes and browsers, you provide your users a better experience, making them stay at your site for longer and, thus, lowering the bounce rate.
5.   Website Gets More Leads
No matter what type of website you are running and what products or services you are selling, the ultimate goal is to generate revenue. A mobile-friendly website helps you generate more leads for your business by improving user experience.
When your user spends more time on your site, they explore more, and chances increase by multiple folds that they become your customers.
6.   Ease of Management
Creating a mobile-friendly website eliminates the need to create multiple versions of your site. Therefore, it becomes easier for you to manage and keep your site updated even with limited resources and time.
7.   Cost-Effectiveness
A mobile-friendly website is cost-effective; as already discussed, you don't have to make multiple versions of your website. Moreover, providing a seamless mobile experience to your users increases your chances of conversion and sales.
In other words, when done correctly, creating a responsive website can give you a higher ROI as it caters to multiple ranking factors of Google.
How to Improve your Website Traffic with a Responsive Website?
Various studies show that most web traffic occurs on mobile phones rather than desktops. Therefore, if you make navigating the site difficult for your users and pinch around, you force them to leave the site and go elsewhere.
However, a responsive website provides a better user experience, and visitors stay at your website for longer, giving search engines a signal that your site has something good to offer you. In turn, search engines make your site more important and increase your chances of reaching the top of the SERP.
The Last Words
After reading the article, We are sure you now know how important a responsive design is for your website. Optimizing your site for all devices and helping your business move forward has become crucial.