Think you don't need to optimize your website for search engine results? Wrong! Optimizing your website for search engine results is one of the most important things you can do to improve traffic, leads, and sales for your business. The truth is that search engines drive the majority of traffic to your website – about 93% of all website traffic is driven by search engines. So if you're not focused on improving your search engine rankings, you're missing out on a lot of potential traffic and sales. In this article, we'll look at some of the most effective SEO practices that will help you increase your search engine rankings and drive more traffic to your site.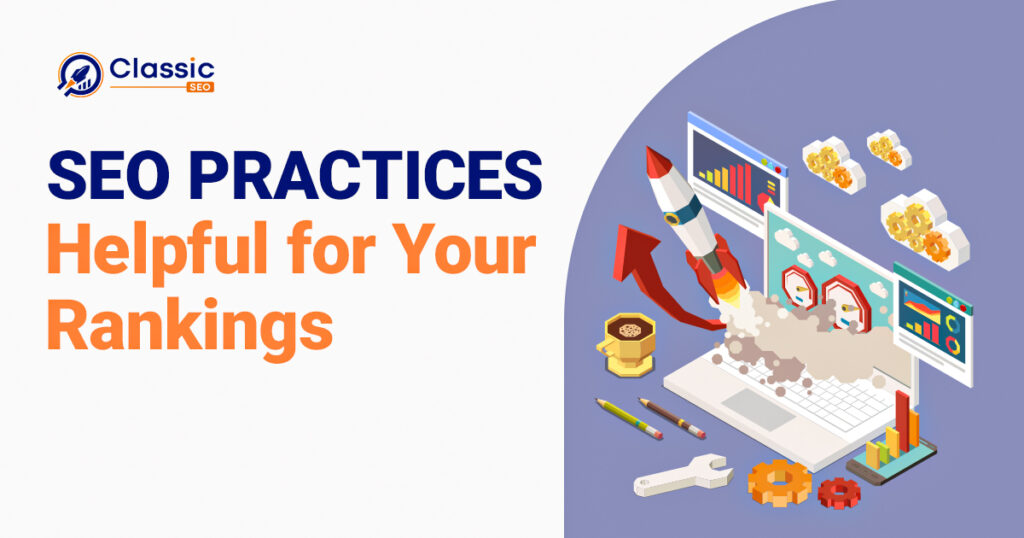 Get Help with Internal Linking of Important Pages.
Internal Linking is important for a website. It improves your search engine rankings and helps visitors navigate your site more easily. Better navigation means improved user experience, leading to higher conversion rates and more sales. Here are four reasons why it's so important:
Increases organic traffic
Keeps users on your website longer
Makes it easier for search engines to crawl your website.
Improves user experience
Title Tag Optimization Plays a Vital Role?
Google now uses "positive zero" or "featured snippets" – the answer to the question the searcher asks at the top of their screen. Those included at the top result are known as "position zero." On many occasions, those featured snippets contain your answer to a search query without any link to your site.
That means if your competitors' answer shows up in Google's featured snippet, they can steal the traffic you would have gotten with that click if you had been on page one.
Title tag optimization is important because it determines whether or not Google is featuring your content in the search result or not. Therefore, it plays a vital role in determining whether or not a user clicks on your page from search results or not. And this simply means that it plays an important role in your business's overall success.
Optimized for low-hanging Featured Snippets
What do I mean by "low-hanging"? First, let's look at some examples to understand the idea better. For example, you can type 'New Car Deals Near Me! on the Google search bar. Since you are new to town, you want to check out the new car deals and go for a test drive. The first few results show up with prices that are way below what you'd normally pay in your area. So, you likely click on one of those results instead of scrolling down the page to look for other deals.
If you search "New Car Deals Near Me!" on Google, the first displayed result is 'Car Deal Finder! This is an example of a low-hanging featured snippet because it is exactly the answer you are probably looking for.
Fresh Old Content by Filling Content Gaps
Put relevant keywords in your content so that users searching for those keywords will easily find your content. This is known as keyword research, and it is an important part of search engine optimization. Take a look at the following example to better understand what I mean. Suppose that you want to rank for the keyword "online dating."To do that, you need to create content that talks about online dating and includes some of the popular topics associated with it, such as how to create a profile, how to attract the right guy, and so on.
Make a list of all the keywords you want to use on your website and include them in your title tags and content to ensure that those keywords will show up when potential customers search online.
Competitor Research to Get New Content Ideas
Competitive research allows you to analyze your competitors' strategies to get more website visitors and improve engagement. You can use this information to improve your content and service offerings to attract more customers to your website.
For example, let's say that you want to get more customers for your e-commerce store, so you decide to do competitive research to find out their marketing strategies to do something similar.
Research for Low Competition Keywords
Pick one or two main keywords to focus on for your article. Then use tools like Ahrefs or SEMrush to analyze your website's competition. Look for websites with similar topics as yours and try to figure out which keywords they use to rank well on Google.
Through this, you will be able to find the keywords that are driving the most traffic to their sites and the ones generating the highest revenue for them. You can then incorporate them into your website to improve your search engine rankings and increase the number of visitors.
Get Google Business Profile
Get your Google My Business account and make sure to optimize your profile by adding relevant details about your business, such as your contact information, business address, and business description. In addition, include photos of your products or services to attract more customers to your business.
An effective google business profile will help you increase your business's visibility on Google searches and make it easier for customers to get in touch with you.
If you haven't initiated a Google Business Profile yet, now is the time!
Add FAQ Section to Important Pages
An FAQ page is a great way to give visitors easy access to the answers to some of the most common questions you regularly ask. By answering these questions in an easy-to-read format, you can eliminate the need for your customers to contact you directly for their inquiries.
Write content that provides value to the reader. Provide high-quality information that readers will find useful and informative. For example, include links to in-depth guides or more comprehensive resources that provide detailed information on a particular topic.
Get High-Quality Backlinks and Avoid Toxic Backlinks.
Get links from sites with a lot of authority and trust with Google and other search engines. This means the site must be credible and have a good reputation among its users.
 Remove toxic backlinks to your website.
Get good and relevant backlinks for your website.
Get backlinks from high authoritative websites.
Google can now spot bad backlinks through an algorithm update (Hummingbird Update), so it is important to get backlinks and remove toxic backlinks to boost your search engine rankings.
Check your Broken Internal and External Links.
Check your website periodically to ensure that all the links on your website are working properly. Broken Internal links can make it difficult for visitors to navigate around your website, while broken links on your external pages may negatively affect your search engine rankings.
The CheckMyLinks WordPress plugin allows you to quickly check all of your internal links and locate any that are broken or missing. It also checks outbound links to ensure that they do not link to any other URLs that
Internal linking is a powerful tool for improving search engine optimization, but it can also help your visitors navigate your site more efficiently. By linking to important content from your homepage and subpages, you can help drive more website traffic and boost engagement.
How ClassicSEO Helps You in Optimizing Your Website SEO?
ClassicSEO offers a wide range of SEO services for all types of businesses. Our skilled team of SEO experts uses their experience and expertise to provide customized solutions that help you achieve your online marketing goals. From on-page optimization to link-building, we can help you achieve impressive results.
Creating Quality Content: Our team of creative writers will create engaging, original content that's optimized for search and placed on your website in a relevant manner.
SEO Research base: We perform extensive keyword research to determine the most relevant keywords and phrases to use throughout your content.
We ensure your website is synchronized with the search engines!
Final Thoughts
Title tag optimization plays a key role in Google's search algorithms. Therefore, optimizing your title tags will greatly impact how your page ranks in Google search results. In addition, having a strong title and meta description can impact how users respond to and interact with your page.
Search engines crawl thousands of sites each day and rank them by relevance. Getting a high rank doesn't necessarily mean that people will visit your site; it simply means that a search engine considers your site to be relevant to a particular keyword or phrase.
With the right SEO tools and experienced minds, you can get the most out of your website and boost its ranking.