Hacks, tricks, and attempts to reverse-engineer algorithms do not work anymore. Search Engine Optimization (SEO) is the real deal in the new digital avenue; the sooner people learn that the quicker they leave their competitors behind.
Let's quickly take you through what Search Engine Optimization is, its type, and how undeniably (x 5)  important it is for every digital business. 
What is Search Engine Optimization (SEO)?
You want your website to pop up on top of the Search Engine Result Page (SERP) whenever people enter a  search query relevant to your business (products/services) into a search engine. Right? For that to happen, marketers practice Search Engine Optimization.
Search Engine Optimization is the practice of boosting a website's visibility in the organic search results of major search engines like Google, Yahoo, and Bing. 
What are the Types of SEO?
A credible SEO company with industry expertise and a sizable portfolio can handle the technicalities of SEO for your business. However, it's always a good idea to get preliminary knowledge of types of SEO because they are at the center of any effective SEO strategy. These types are:
On-page SEO 

Off-page SEO 

Technical SEO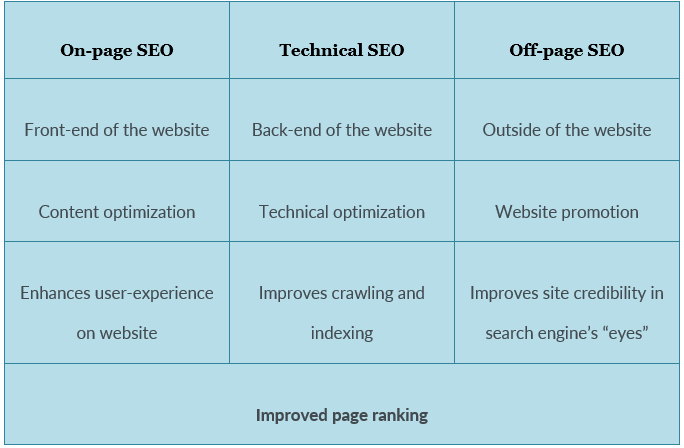 On-page SEO 
On-site SEO (also known as on-page SEO) is the process of optimizing your website's front-end elements to earn a higher rank and organically bring qualified and targeted traffic. These elements include page content, meta titles and description, URL structure, images, and other related aspects of a website.
On-page SEO is crucial because it helps your website to be optimized for both the users and search engine bots and "tells" the search engines about the value you provide to users. 
Technical SEO 
Technical SEO is a subset of on-page SEO that optimizes the website's technical and back-end aspects, including site architecture components, speed, security, mobile friendliness, responsiveness, and so on. 
Ideally, an SEO strategy places technical SEO first in order of implementation as it ensures that the website is suitable for search engines to crawl and index. If search engine bots can not crawl and index your website, they wouldn't be able to rank your website on SERP. Therefore, any other SEO investment is useless without technical adjustments. 
Off-page SEO 
This refers to the processes, steps, and techniques implemented outside your website to promote your business on the internet, specifically on SERP. This aspect of SEO is fundamentally attached to good quality backlinks from other websites to yours, which helps search engines identify your website as credible and of value. Other tactics under the umbrella of off-page SEO include guest blogging, social promotions, and PR.
The bottom line is off-site traffic brings referral traffic from other sites to yours. 
Reasons Why Your Business Absolutely Needs an SEO Strategy? 
Source:  business2community
We have already discussed that SEO improves your website's searchability and digital presence, but what other benefits does it offer? SEO's value is beyond what this article can encapsulate—so let's just focus on the eight major reasons your online business needs an SEO strategy. 
Multiplied Trust and Credibility 
Suppose you enter a search query into a search engine and a plethora of search results greet you on the Search Engine Result Page. Which one are you most likely to open? Most probably the first one—because the click-through rate of the first Google search result is 32%. The reason? A higher position on SERP indicates a website's credibility, trustworthiness, and resourcefulness. 
So, what can take you from the bottom of the SERP to its top? SEO, is the hero we all need. 
And what helps google identify your website as trustworthy and authoritative and ultimately rank it? The good practices you implement through your SEO strategy.  
A Boost in Business's Online Visibility 
Here's to hoping you haven't already heard of this cliché quote that is probably the most-loved and most-cited by SEO professionals. It goes: the best place to hide a dead body is page two of Google because the organic click-through rate for listings there is a plain 1%. So unless you consider your business a dead body, you should aim to rank on top of the first page of results. 
SEO proves the relevance of your website for users to search engines. Consequently, the search engine boosts your rank and brings your website to the top, gradually improving your digital presence and visibility. 
An influx of Qualified Leads
If your online business does not have a steady stream of leads, it is pretty useless despite serving useful products/services. SEO helps with lead generation by driving awareness of your brand through organic traffic on your site. The higher you rank, the more your brand visibility; the more users will click, the more leads will come.
You can also target local customers with local SEO and bring them to your online business. Local SEO helps optimize your digital business for a specific area, so people can easily find you and come closer to a business transaction. Local SEO focuses on targeted vicinities such as towns, cities, regions, and even states to set up a feasible medium for your business on a local level.
Higher Conversion-rate 
SEO leads are prospects with specific requirements and have a specific intent when they plug in a search engine query. They have more or less already decided that they want a product/service but are just surfing through to see which fits the best. This means that they are market-qualified leads (MQL) which results in higher conversions. According to Monster insights, they have a conversion rate of 14.6%. On the other hand, cold outreach results in only 1.7% conversions at a lot more cost. 
Cost-effective and Relatively Cheap
Search Engine Optimization is relatively cheaper than other marketing alternatives, and the gradual payoff is huge. From our position in the digital landscape for so long, we don't see it as a marketing cost but as an investment that returns. Besides, when you are already on top of the SERP, you might not need to invest in a Pay Per Click (PPC) ad campaign frequently, which can get costly if the leads don't convert. 
A Long-Term Marketing Strategy 
According to research by Ahrefs, an average page takes more than two and a half years to reach on top of the Google search results. Why? Because SEO is an ongoing, constantly evolving practice. If so, what's all the SEO hype about? 
The hype is because:
Unlike paid traffic that goes away when you stop paying, the traffic coming through SEO stays nice and steady over a long time.

It's hard to take you down once you have outranked your competitors on SERP.
Market Authority is Established 
So, your visibility has improved, and so has your brand awareness—thanks to an effective SEO strategy. People are clicking through your links and looking at your content. If the content you deliver is relevant and valuable to your target audience, they will consider you an authority in the field. Your social media platforms become their go-to place if they need quick updates on market trends and other relevant information. Increased fan following and social media engagement start a loop of traffic, credibility, recognition of authority, fan following, and overall SEO advantage. 
SEO is Quantifiable 
The best thing about SEO is that it's quantifiable—and we know that objective data never lies. You can see some of the results up close and measure the efficacy of the strategy in place. The quantification becomes even more important when you have an SEO agency seeing your SEO strategy. Some trackable, universal SEO metrics are:
Organic traffic

Organic bounce rate

Keyword ranking

Organic conversion rate

Pages indexed and crawled per day

Crawl errors
Each statistic indicates something. Based on these stats, an SEO professional gauges the effectiveness of the SEO strategy and tweaks per need. 
Wrap-up 
Like we said before, full-fledged, up-to-date Search Engine Optimization (SEO) is the marketing hero every digital business needs today. Of course, it takes time and consistent effort, but once the results show, you will thank everyone who convinced you to take the plunge!